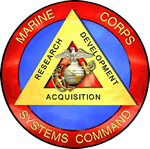 On April 2nd, the Chapter presented the second of two lunch-speaker events by hosting Product Group 12 (Communications, Intelligence, & Networking Systems). Product Group Leader Jim Westerholm was our keynote speaker.
Mr. Westerholm provided a 30 minute overview of Product Group 12, which was followed with a question and answer period.
The presentation can be downloaded here:  PGD12 Brief
JAMES  WESTERHOLM
PRODUCT  GROUP DIRECTOR
PG 12  – COMMUNICATIONS, INTELLIGENCE & NETWORKING  SYSTEMS (CINS)
Mr. James Westerholm  serves as the Director, Communications, Intelligence,  and Networking Systems of the Marine Corps  Systems Command (MCSC), Quantico, Virginia.
Mr. Westerholm began  his government career in January 1985 as a mechanical engineering co-op student  with the Norfolk Naval Shipyard.  Upon  graduation as a mechanical engineer from  The Pennsylvania State University in 1987,  he became an In-Service Engineering Agent  for the Anti-Submarine Warfare Systems at  the Naval Sea Combat Engineering Station  in Norfolk, Virginia.
In 1989 Mr.  Westerholm was reassigned to the Naval  Sea Systems Command in Crystal City, Virginia.   For the next ten years he held several  acquisition management positions of increasing  responsibilities within the Program Executive  Offices for Undersea Warfare and Submarines.   Acquisition programs in which he was involved included Surface Combatant Anti-Submarine Warfare  and Combat Systems, Unmanned Undersea Vehicles  and Universal Modular Masts for the Virginia  and Los Angeles Class Submarines.
In June 1999  Mr. Westerholm moved to Marine Corps acquisition  and became the Wideband Systems Manager  at the Marine Corps Systems Command, Quantico,  Virginia.  In August 2002 he became  the Program Manager for the USMC High  Mobility Artillery Rocket System and remained  in this position for the next five  years.  Mr. Westerholm attended the Industrial  College of the Armed Forces from August  2007 to June 2008 and returned to  MCSC as the Director, Strategic Planning.   He took over his current position as  Director, Communications, Intelligence and Networking  Systems in January 2009.
Mr. Westerholm earned  a Bachelor of Science degree in Mechanical  Engineering from The Pennsylvania State University  and a Master of Science in National  Resource Strategy from the National Defense  University, Industrial College of the Armed  Forces.  He is a graduate of the  Defense Acquisition University Senior Acquisition  Course, Advanced Program Managers Course and  the Program Manager's Course (PMT 401).   Mr. Westerholm is DAWIA Level III-certified  in Program Management and Systems Planning,  Research, Development and Engineering career  fields.
Mr. Westerholm has  received several awards throughout his distinguished  government career.  Highlights include the  USMC Certificate of Commendation for Professional  Achievement, the USMC's 2005 Donald Roebling  Award for Acquisition Innovation and Excellence,  the MCSC Command Vision and Achievement  Award and induction into the Honorable  Order of Saint Barbara by the United  States Field Artillery Association.